20+ Teakwood Main Door Design Ideas For Home That Are Trending
Get inspired with 20+ trendy teakwood main door design for your home. Make your home entrance stunningly beautiful with teak wood door! Check now!
A beautifully designed teakwood main door can instantly enhance the overall appeal and charm of your home. Being the Best furniture shop in Kolkata, we understand the significance of a beautifully designed main entrance of home.
That is why our team has handpicked an exclusive collection of teak wood main door design. These designs not only exude elegance but also ensure long-lasting durability. Teak wood furniture in Kolkata has long been admired for its timeless beauty and natural strength. We've compiled a list of 20+ trending teakwood door design ideas that are making waves in home decor.
If you're a homeowner looking to revamp your entryway, you're in the right place. Let's explore these trending designs that can transform your home's entrance.
Image Credit - freepik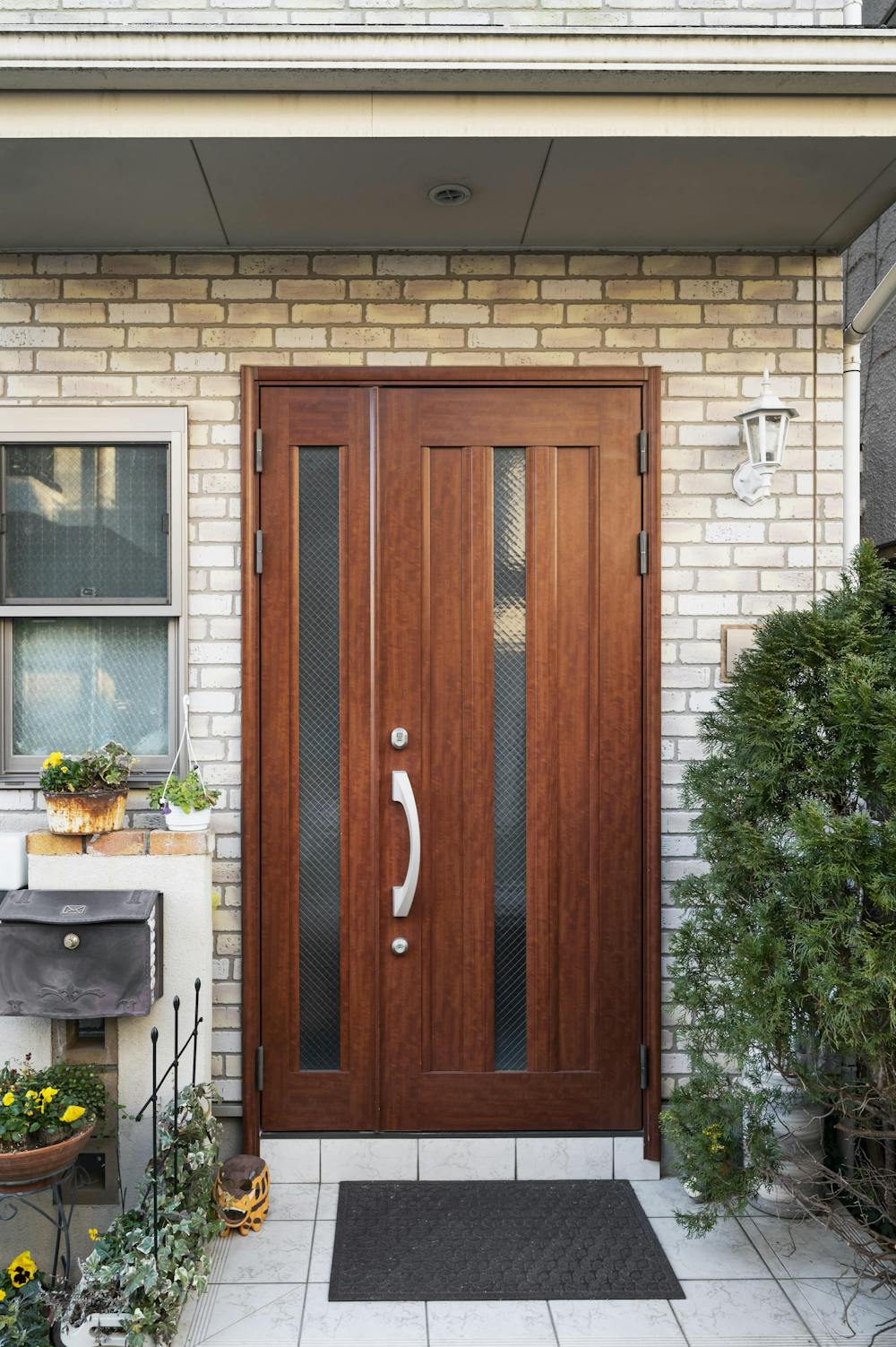 1. Crafting Elegance: Indian-Styled Wooden Main Double Door Designs
These doors highlight the wonderful craftsmanship of Indian design. With beautiful carvings and rich woodwork, they add a touch of elegance to both traditional and contemporary houses. Give your home a secure and beautiful entry by choosing an entrance door like this.
Check Out This : How To Identify Genuine Teak Wood Furniture

2. A Checkered Elegance: Teak Wood Main Door Design with Glass Panels
These teak wood main door design for houses are a wonderful blend of elegance and functionality. It combines the classic appeal of checkered patterns with the sophistication of glass panels. They add a personal touch to every home's entrance.
Image Credit - freepik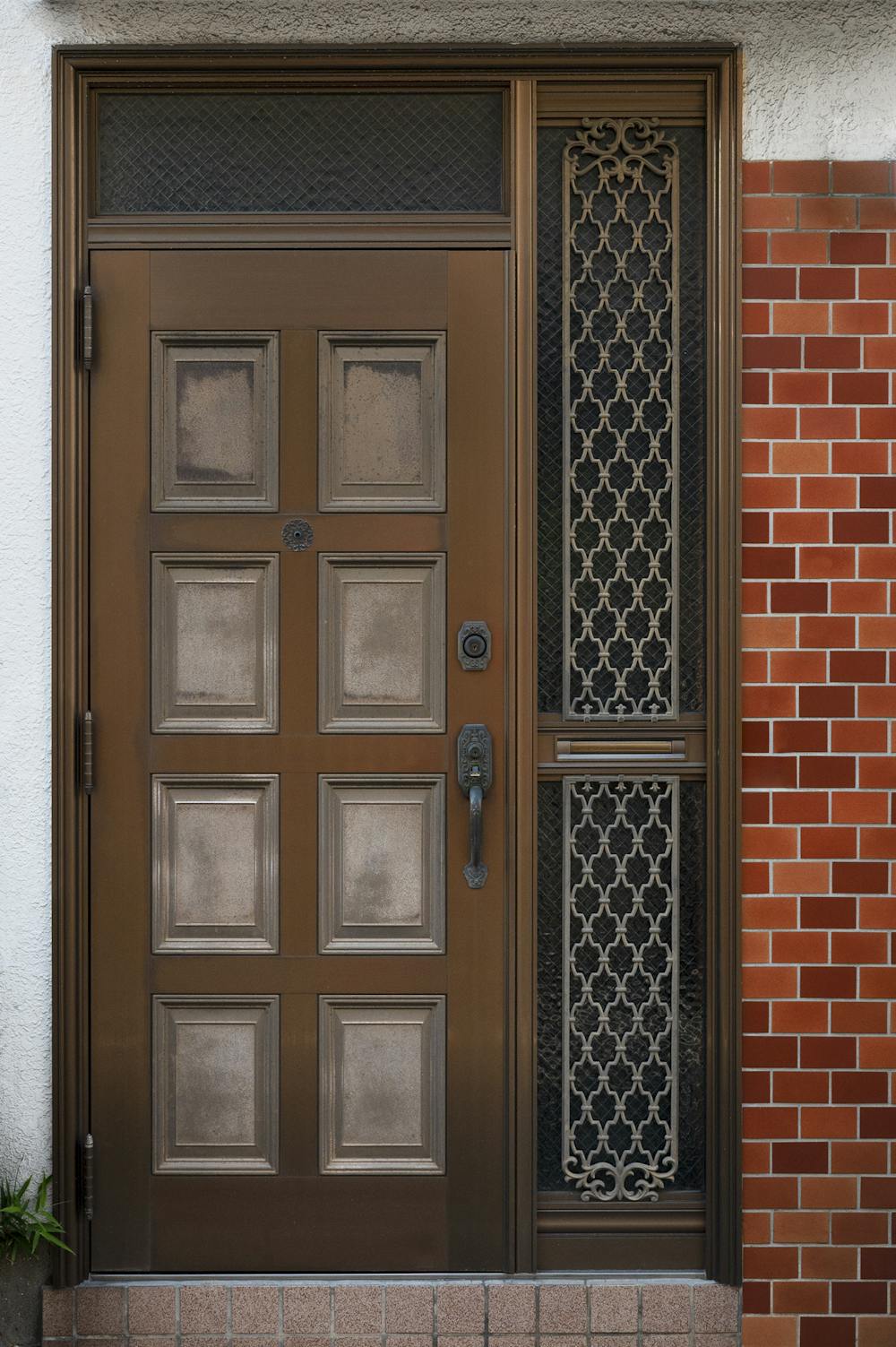 Read This Tips Before Designing Modular Kitchen : Try These Budget Friendly Tips To Design A Modular Kitchen
3. Burmese Beauty: Teak Wood Door Design Exquisite from Burma
Burma teak is renowned for its exceptional quality and long-lasting durability, making it one of the best teak wood in the world. They are the epitome of luxury and can transform any home into a work of art.
The fine grains of Burmese teak improve the overall aesthetic appeal, producing a striking focal point for any house.
Image Credit - freepik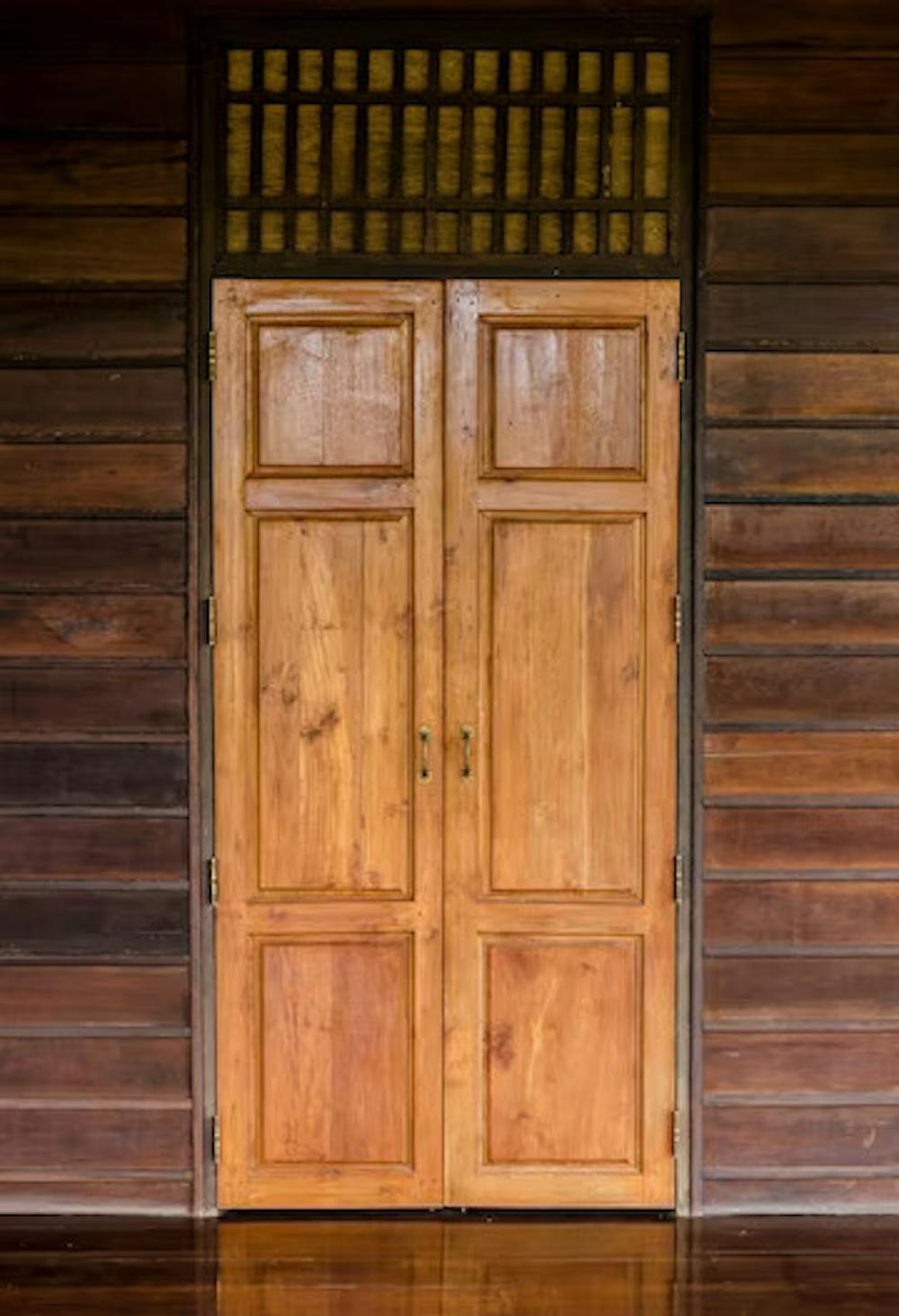 A Must Read For Home Owners Having Teak Wood Furniture : 13 Best Tips For How To Protect Teak Wood Outdoor Furniture
4. Designer Dreams: Teak Main Door with Artistic Glass Panels
Teak main doors with creative glass panes will enhance the exterior appeal of your home. These designs offer a modern twist on traditional elegance, making your entrance a true statement piece.
The rich carvings on the main door design add a special charm and change the entire look of your main entrance.
Image Credit - freepik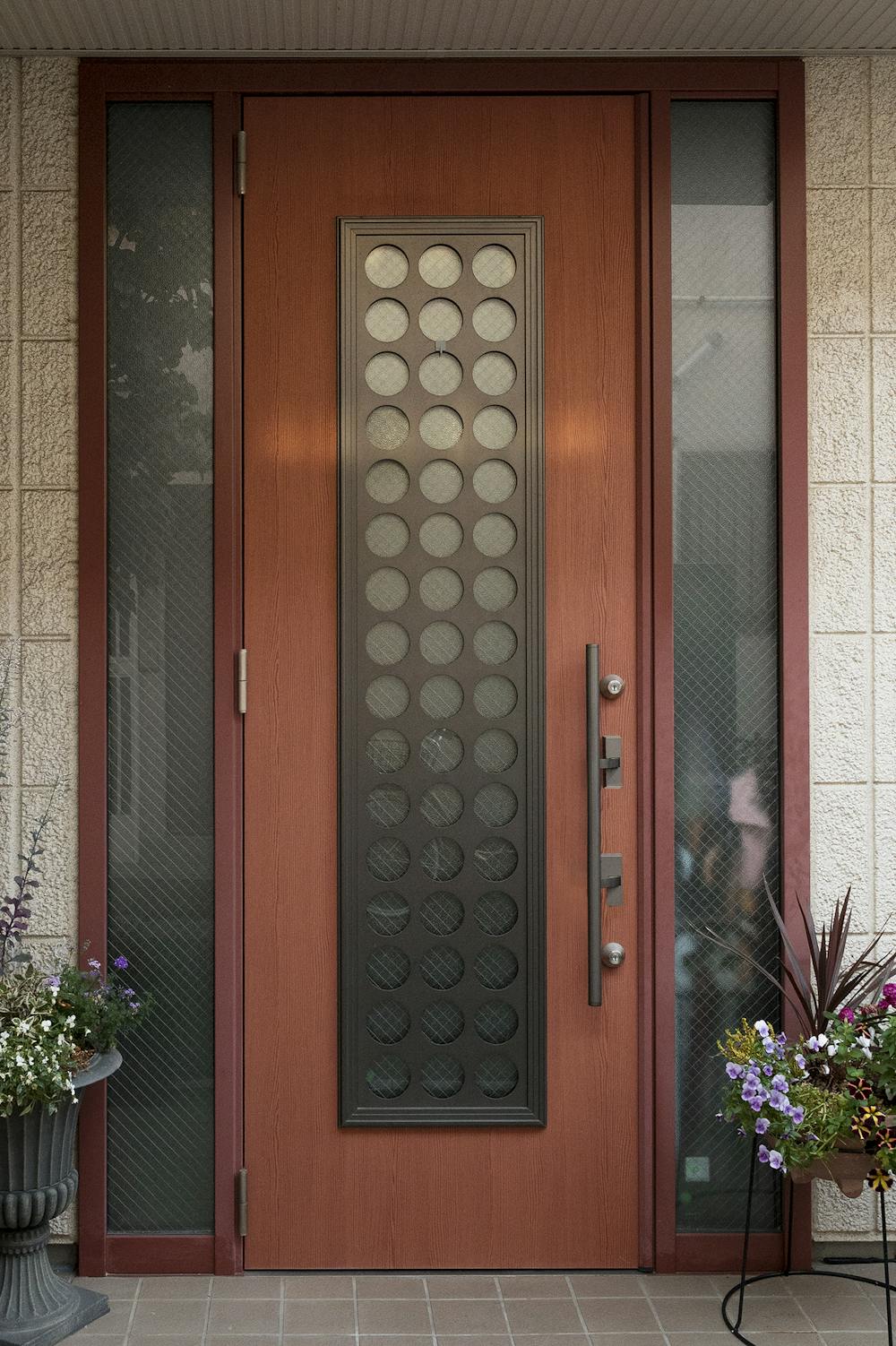 5. Journey to Arabia: Embracing Classical Teakwood Main Entrance Design
Classic teak wood main door design ideas will transport you to exotic Arabia. This timeless design make a welcoming doorway enriched with cultural richness that will take your breath away.
This is one of the most classy ideas for your home that will surely wow your guests. The vintage-style carved teak door adds a royal touch to your entrance.
Image Credit - freestockcenter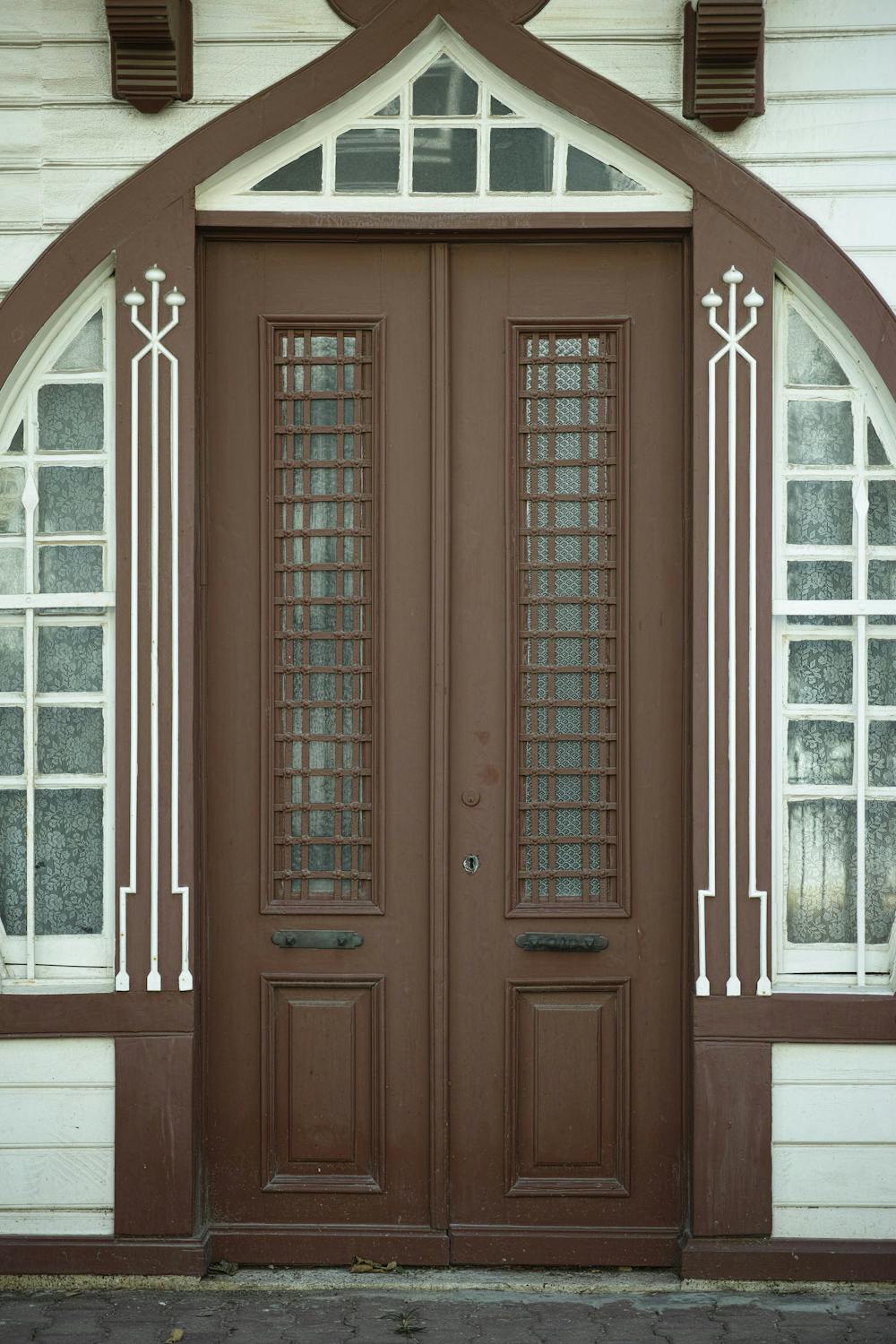 6. Timeless Tradition: Solid Wooden Main Door with Ornate Idol Detailing
Infuse tradition into your space through a solid wooden door design. It is adorned with intricately carved idol-inspired details. These masterpieces not only welcome guests but also tell stories about heritage & artistry.

7. Elegance Illuminated: Blend of Glass And Teak Door Design
The warmth of teak combined with the clarity of glass creates an appealing doorway. This is a trendy teak wood main door design that is very popular among homeowners. Such unique and stylish entrances for your home make your home luminous and beautiful.
Image Credit - freepik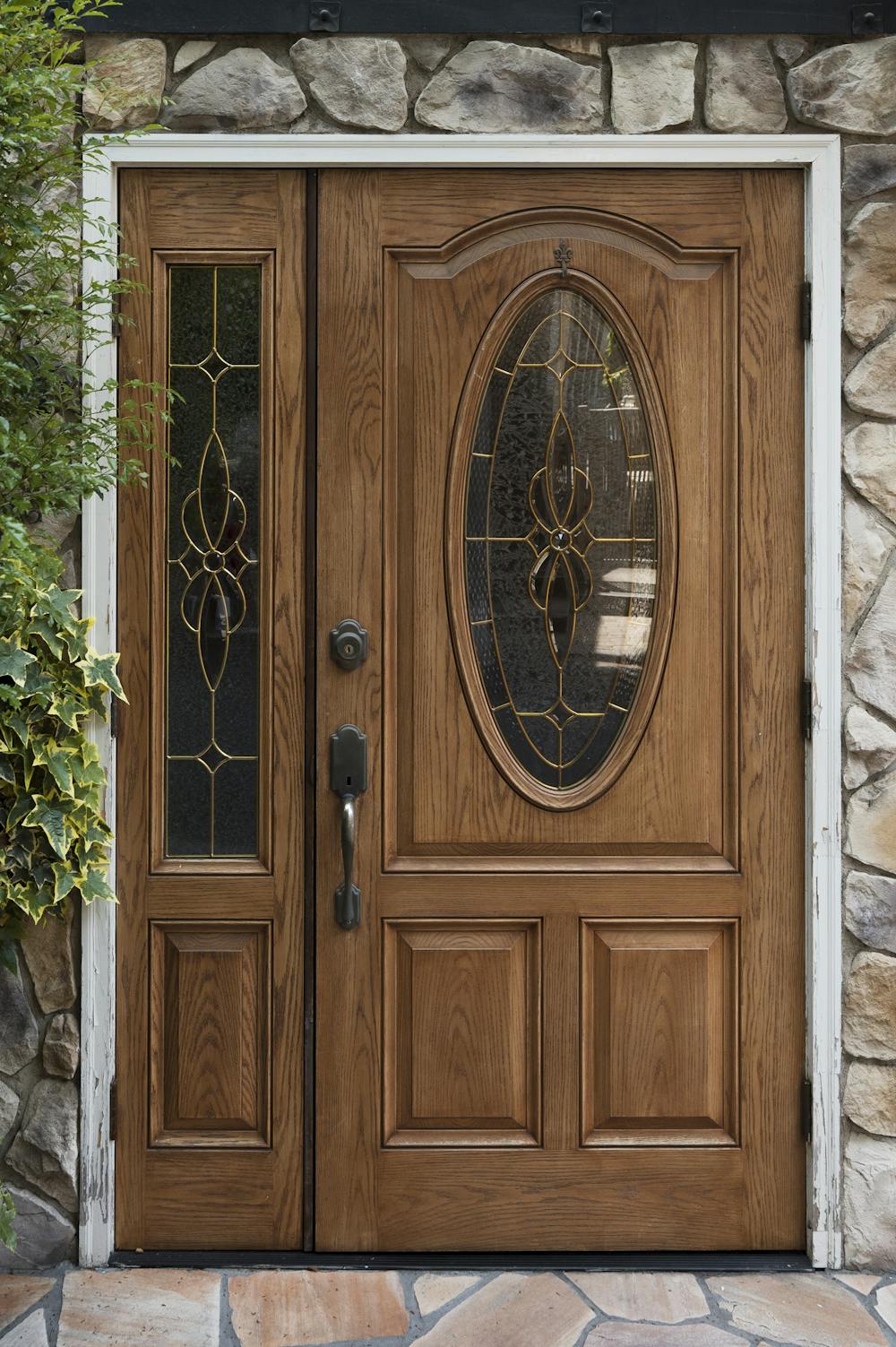 8. Geometric Charm: Teak Wood Door Design with a Twist
Add a contemporary twist to a classic design by choosing geometric patterned doors made of high-quality teak wood. This is a perfectly carved teak wood main door design that adds modern aesthetics without compromising on elegance.
9. Veneer Visions: Teak Main Door Design Ideas with a Modern Touch
Teak Veneers are like super-thin sheets of genuine teak wood. When you install a teak veneer on your door, it's like giving it a teakwood makeover. It not only makes your front of the home appear great, but it also makes it stronger and long-lasting.
Image Credit - freepik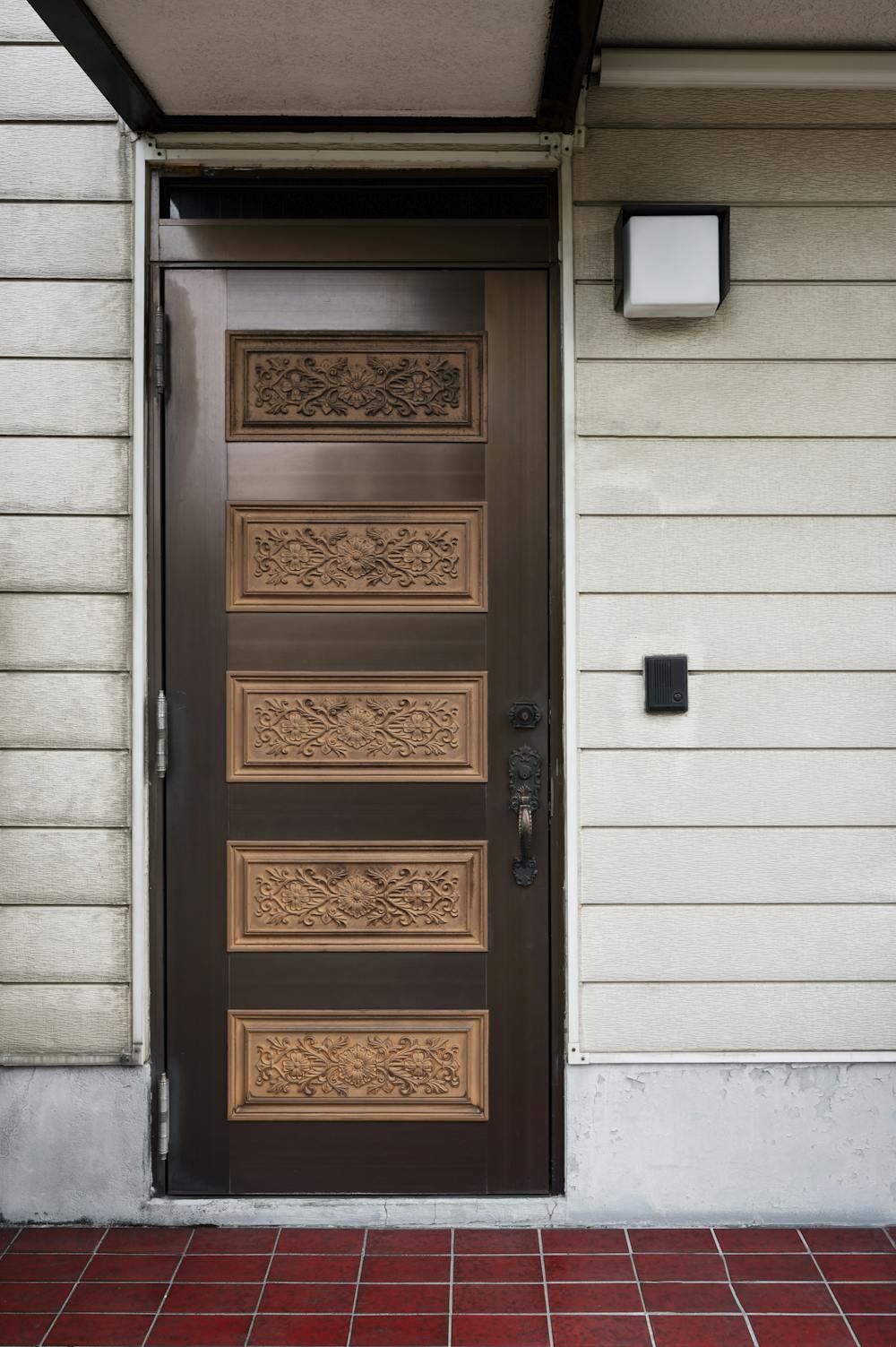 10. Antiquity Revived: Captivating Antique Door Design Finishes
Recreate the charm of the bygone era's interior design with a door for your home that features appealing antique finishes. These type of Indian main door design add a sense of history to your home's entrance.
Image credit - Antique Door Images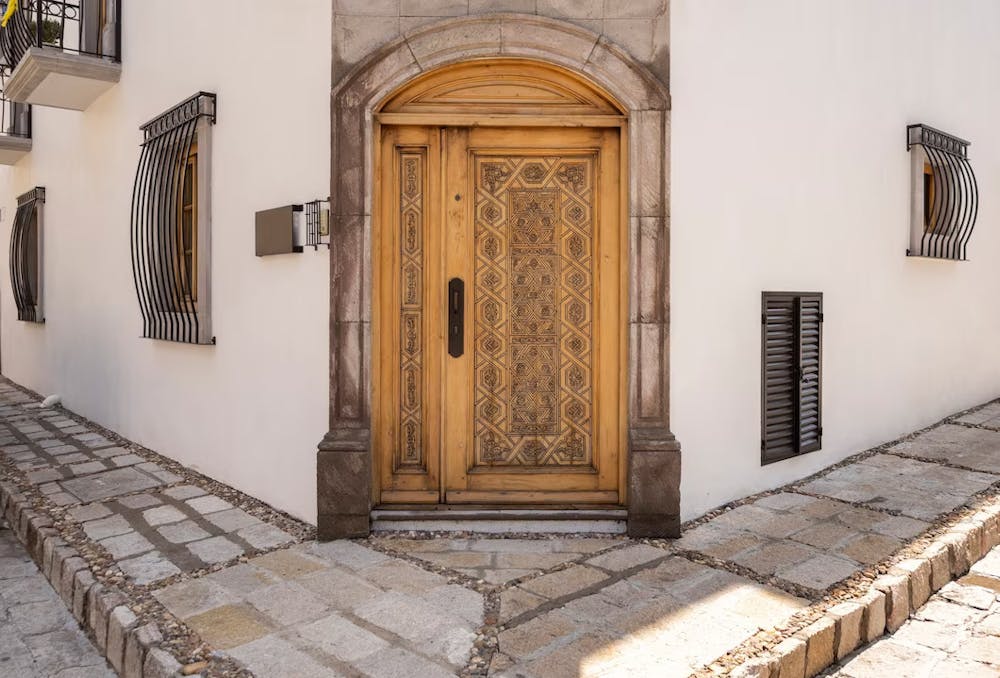 11. Glowing Entryways: Lighted Panel Door Design
Now, this is one of the latest designs where light panels are used to design doors. So, make a lasting impression with illuminated panels. These doors offer a pleasant ambiance to your home's entrance throughout the night.
12. Squared Sophistication: Teak Side Walls with Textured Main Door
Teakwood doors with squared patterns add a sophisticated touch to the entrance to your home. They are a one-of-a-kind option for individuals wishing to make a modern statement.
Image Credit - freepik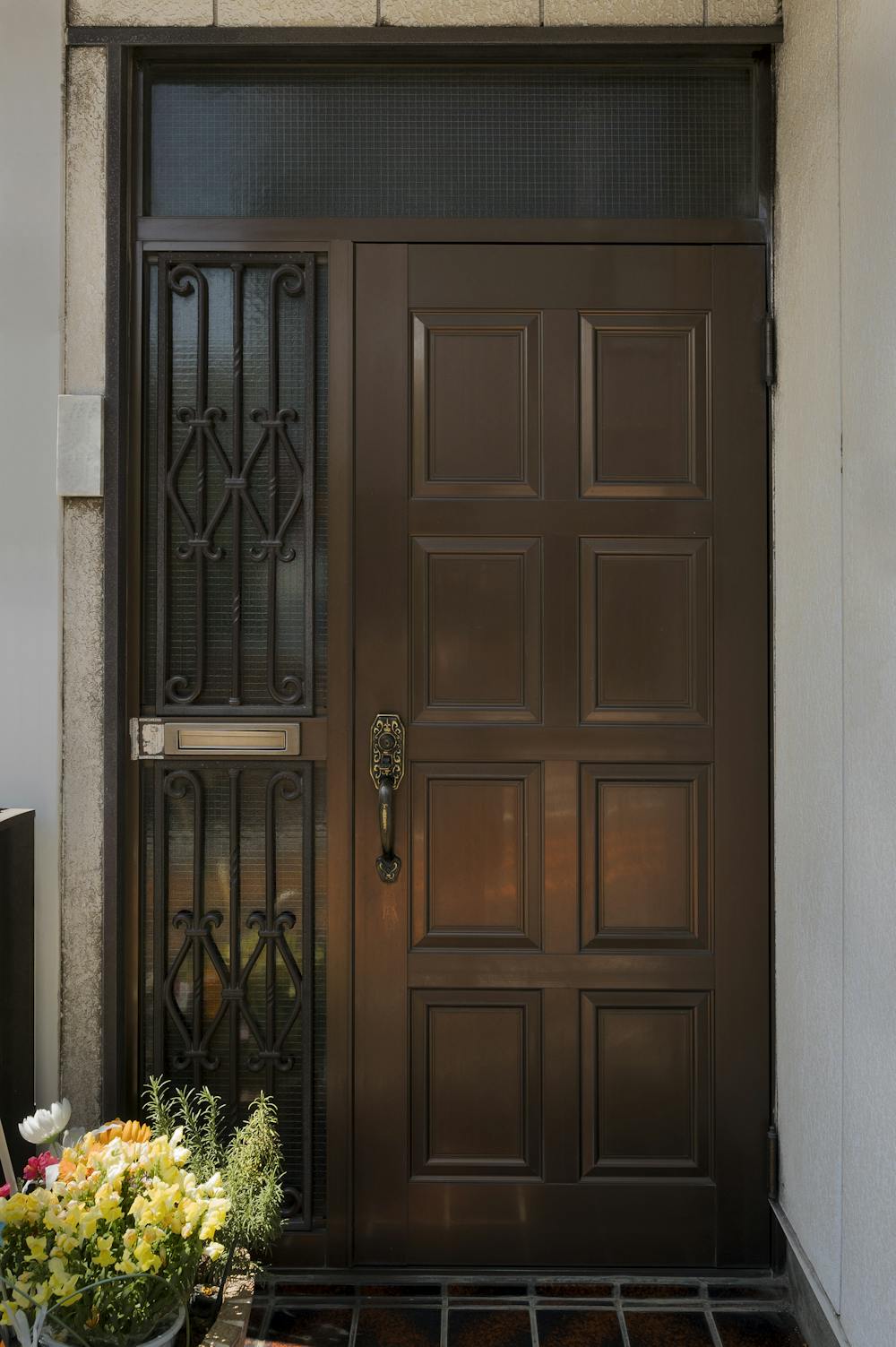 13. Doubly Delightful: Teak Wood Double Door Design
Create spectacular entrances with our double teak wood door designs. These teak wooden door design create a bold statement while remaining open and wide.

14. Textured Temptation: Artistic Panel Teakwood Main Door Design
Turn your ordinary home entrance into an extraordinary one with an artistic panel design made of the highest quality timber. This type of creative door adds a unique touch to the entrance of your home.
Image Credit - freepik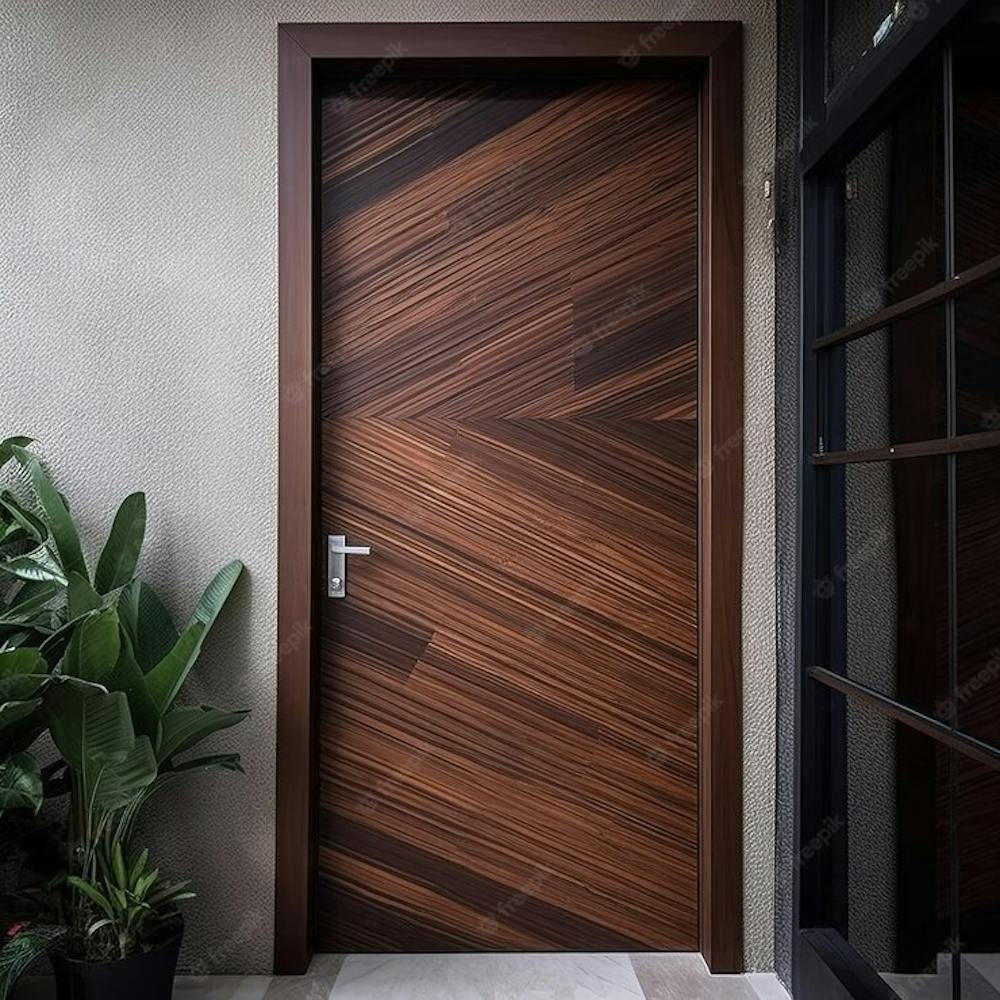 15. African Style: African Teak Wood Main Door Design For Home
African teak wood is prized for its strength and beauty. This door design for your home is simple and complements the entire look of your home. This is one of the best ideas home in 2023. Choosing a teak wood main door design like this creates an inviting entrance for the home.

16. Harmonious Entry: Accordion-Style Teakwood Doors
Accordion doors are excellent space savers! To save space, they fold up in parts and create enough space for entrance. They're usually made using teak wood, which gives a nice classic look.
Image Credit - White Door Photos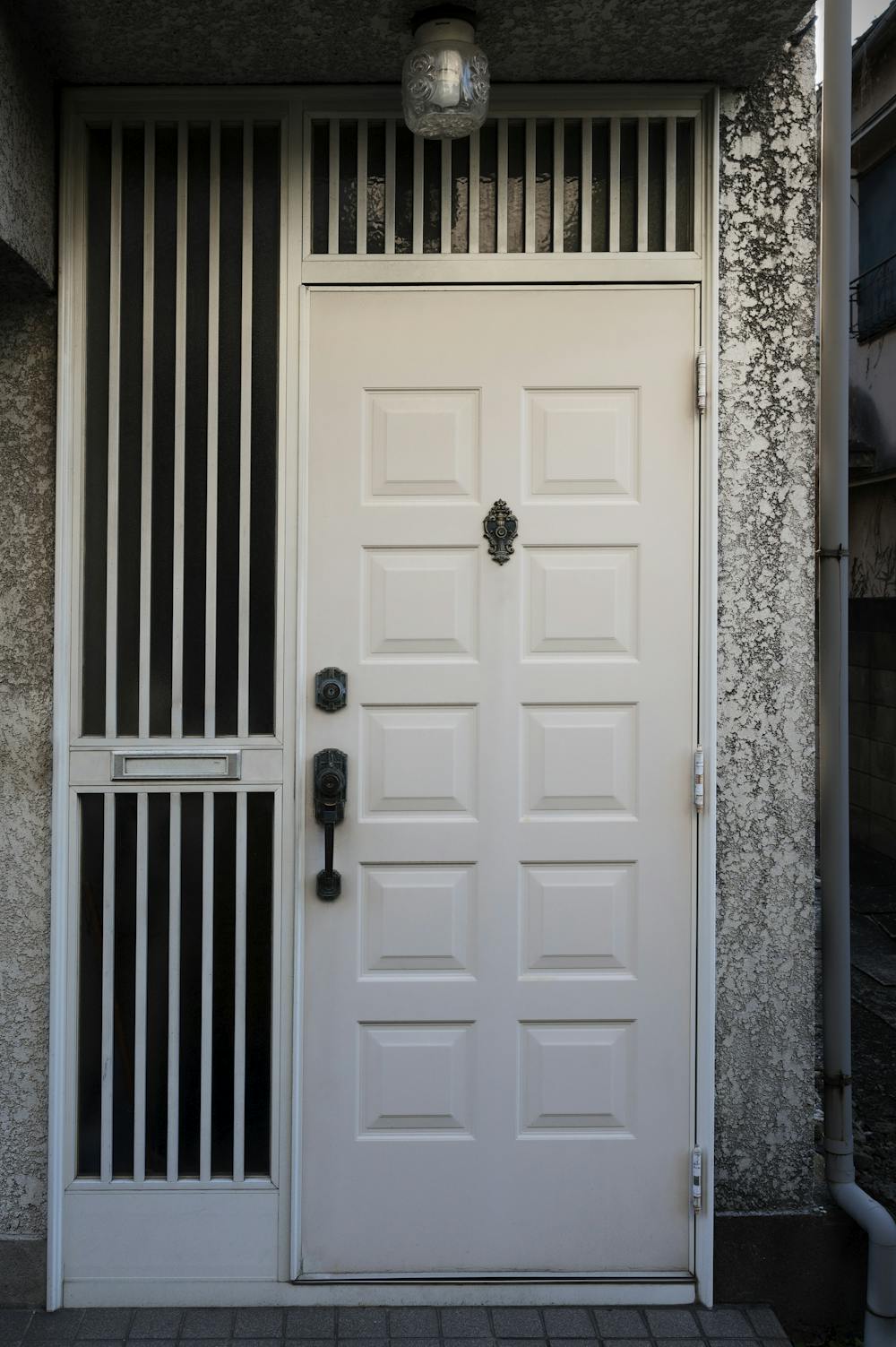 17. Simplicity Speaks: Minimalist Teak Wood Main Door Design
Less is more with simple teak wood main door designs. Clean lines and simple elegance define these types of teak doors. These teakwood doors are a perfect choice for those who appreciate simplicity.
Image Credit - freepik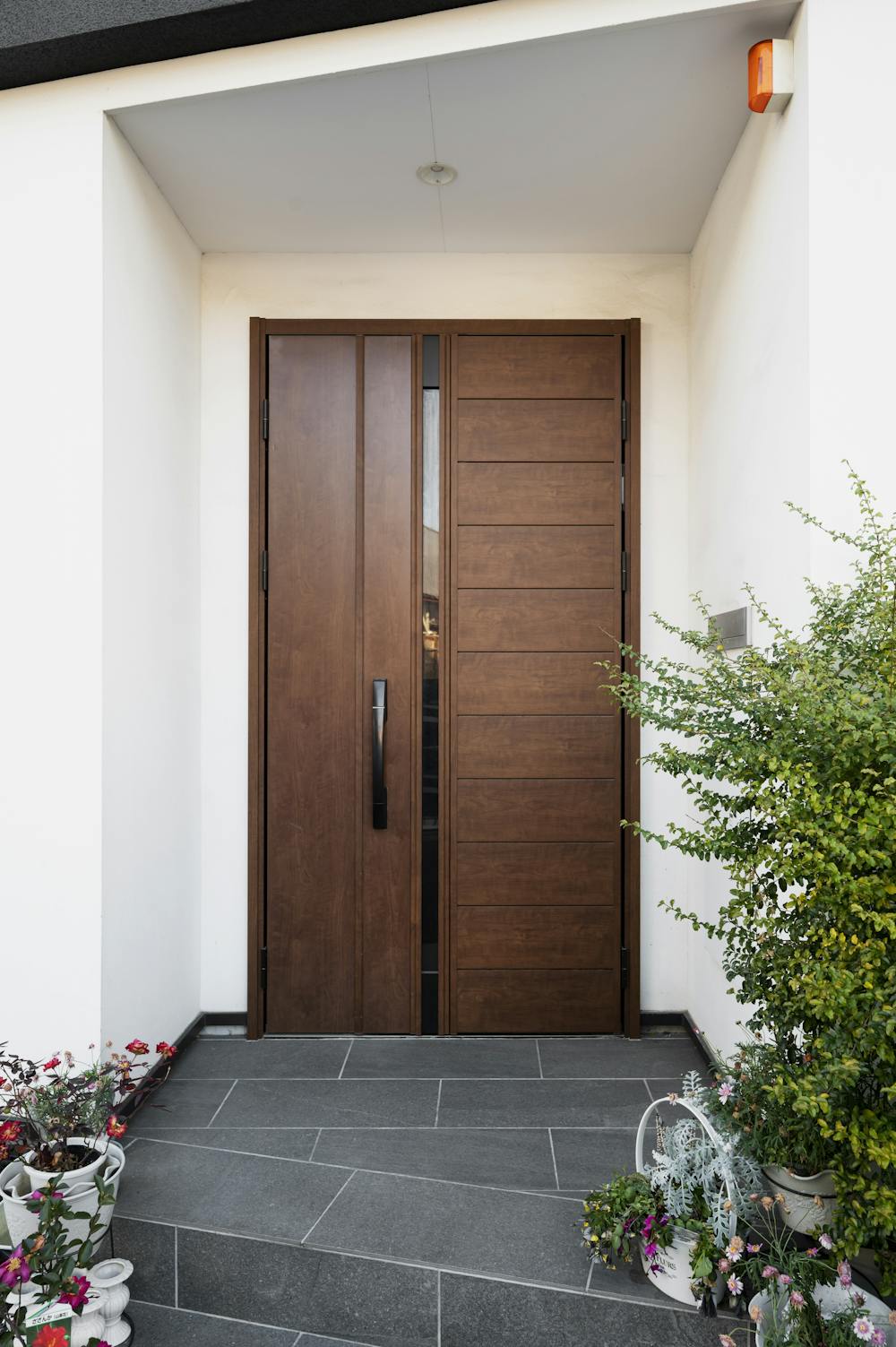 18. Vintage Allure: Teak Wooden Doors in Timeless Style
Bypass doors are lightweight wooden doors. These door designs are the most popular options among homeowners. They are ideal options for tight spaces as they can slide in an overlapping way.
19. Striped Sensation: Teak Wood Main Doors with Flair
Several teak wood main door comes with striped patterns which make a strong, fashionable statement. These doors provide your entrance style and a feeling of modern design.

20. Handle with Style: Teak Wood Doors with Statement-Making Door Handle
You can never go wrong with the teak wooden door that comes with a stylish door handle. This type of door adds a touch of style and sophistication to your entrance.
Image credit - Black Door Photos
21. Unfinished Beauty: The Raw Appeal of Teakwood Look
Choose the raw, earthy beauty of unfinished teakwood designs. These doors give your home an authentic feel by offering a raw and exceptional look. It can offer you a good-looking entry into your home at an affordable cost.
Image Credit - freepik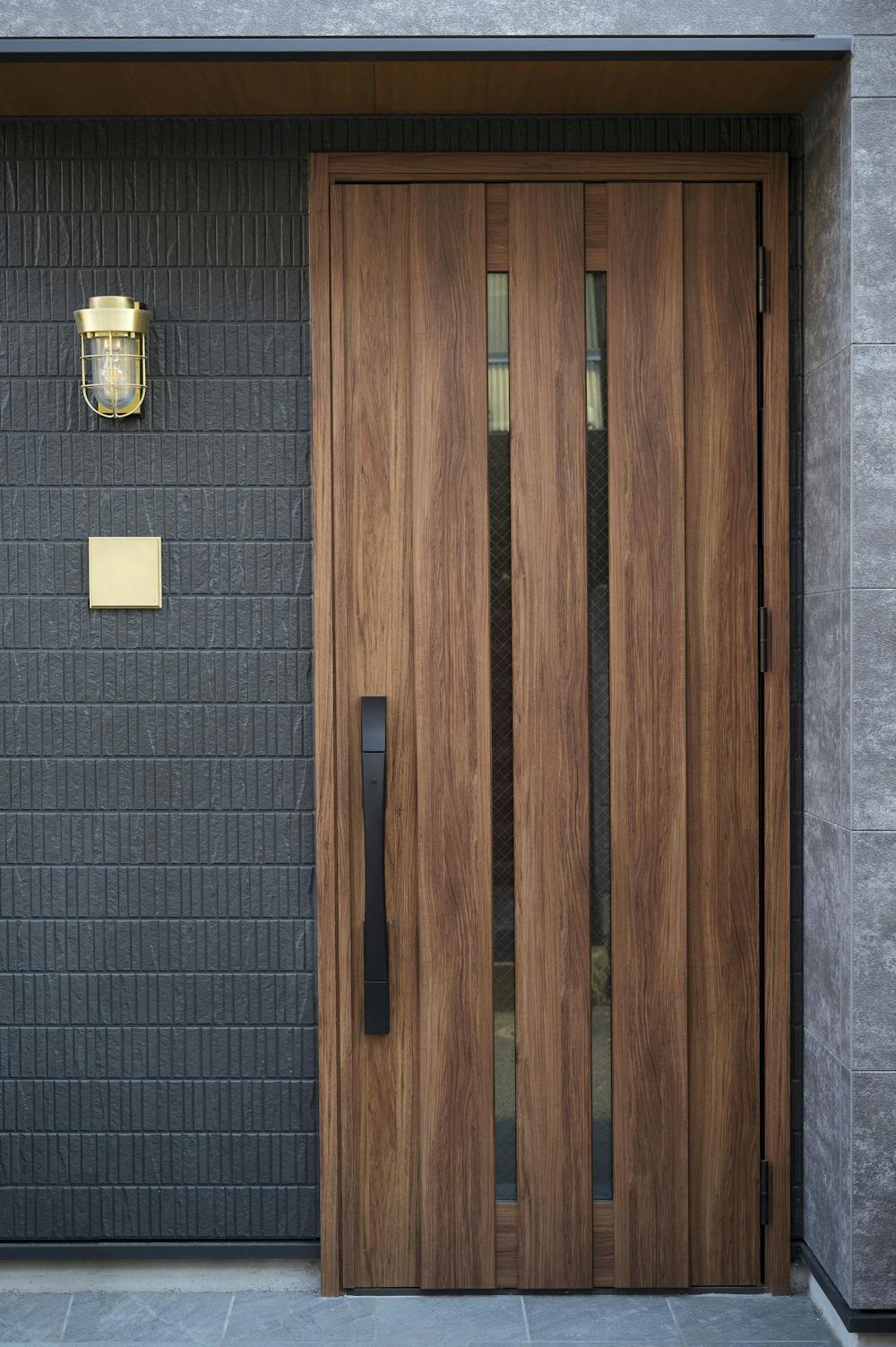 Buy The Best Teakwood Main Door Design For Home
Teakwood is the ideal material to use for your home's main door design. Teakwood furniture from Bosky Furniture is a great choice due to its modern and elegant design and lifetime durability. Our selection of 20+ teakwood main door designs provides options for both classic and contemporary tastes. Stop thinking more! Enhance your home's entrance right away to leave a lasting impression on visitors. Visit us today!